I feel I have failed to give a link for the Spring Read Thing so click on this button to get to the official page: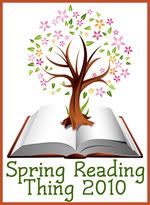 I'll also put it on my side bar.
We had a good Sunday. We went to Price Smart with one of John's co-workers. She brought us first to Chez Christophe for breakfast and it was amazing! John and I are breakfast people and we were so happy to find a good place that is close. She mentioned that we'd always find someone from the Embassy there, and sure enough one of their co-workers from the consular section showed up when we were eating.
Price Smart was busy for Price Smart but it was the same as Costco on the weekend in my opinion. We got a few things and then came home. In the afternoon everyone but John napped...for four hours. John had to wake us up. During our nap John made donut holes...mmm. Then dinner, Skype with my mom and sister, bath/shower for the kids and bed. We started watching Chocolate and then stopped half way through so John could sleep.
I couldn't sleep...and I couldn't sleep. Finally after an hour and a half as I was about to fall asleep John's alarm went off. You see, last Friday morning we had a power outage for just a few seconds. Long enough to reset his clock of course. I reset the time, but failed to reset his alarm. DOH! So a little bit after that I finally went to sleep. When Simon got up to eat in the wee hours of the morning, I had such a hard time getting up. And then when Malachi woke me up it was just as hard.
And now here we are. I was blogging and feeding Simon breakfast at the same time. And now I'm done feeding him and I have nothing else to say except that I'll post a couple of pictures soon, but we don't have a regular computer yet to download pictures on (just a netbook and it doesn't have the space for our pictures). So I haven't put any pictures on our "computer." I'll do a couple though, I suppose.
Oh, and one more thing! Our HHE is in country today!!! It's supposed to take a few weeks to go through customs. Maybe it won't. That would be nice. No word on the car (which I'd rather have more than the HHE honestly).